Our New Instructional Video Makes Canopy Installation a Breeze
If a picture's worth a thousand words, an instructional video might be worth ten times that. (At least, that's the general consensus among the Metallic Products crew!) The truth is, there's real value in something created specifically to educate a person, instill confidence in an upcoming project — and make life a little bit easier along the way. We are excited to announce the recent release of an instructional video aimed at doing just that.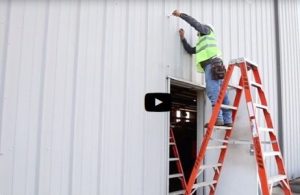 Available to view on the Metallic Products YouTube page, as well as the product pages for both our Personnel Door Canopies and Lighted Canopies, our new installation video provides a step-by-step look at everything that goes into safely and securely adding a door canopy to a metal wall. From initial measurements to get the project off the ground, to proper installation and placement, it's the information your crew needs, presented in a little more than three minutes.
Why'd we go the video route? It's not because our crew members are looking to carve out a career on the big screen. (Although they're pretty talented. Who knows what could happen?) We really just want to provide our friends and customers with the tools they need to get their door canopies up, and to make sure those canopies work their best.
While we do hope our new instructional video makes canopy installation a little easier, the insight doesn't have to end there. If you have additional questions about door canopy installation, the products themselves or our other metal building accessories, please feel free to get in touch. The Metallic Products team is always happy to help.